As a company that began operation in South Africa 85 years ago as a legal publisher, LexisNexis has been intimately involved in the journey of the legal industry. Our purpose globally is to advance the Rule of Law, and our fundamental belief is that when you put information and technology into the right hands, you give people the power to change the world. We do this through our various products and solutions all aimed at assisting professionals make sense of overwhelming volumes of information every day.
We offer the legal, corporate, government, property and academic markets tools and resources that enable them to work faster and smarter, giving them meaningful intelligence and powerful tools, supplied when, where and how your work demands. We arm our customers, with platforms that transform complexity into clarity, vast data into insight and insight into action.
The business is structured into three divisions mainly Business Software Solutions, Data Services and Legal Information and Compliance. Over the years we have evolved to become a Legal Technology business as we use technology and software to disrupt markets we serve. We provide online access to software that reduces cost and time pressures on professionals.
Our organisation strives on rich and in-depth content supported by leading edge technology platforms that make interpreting and analysing of this content simple and effective. A key practice area in our stable is Labour and Employment Law solutions that clients can rely on. Case law, legislation and commentary works are available in a variety of print and digital formats, while relationships with esteemed authors such as Anton Myburgh of Review in the Labour Courts or Rosalind Davey and Lenja Dahms-Jansen of Social Media in the Workplace, make our content much sought-after.
Loose-leaf products such as Labour Law through the Cases by Darcy du Toit, are also available on Lexis® Mobile, for access on the go whether on or offline. More advanced online solutions include Lexis® Practical Guidance: Labour and IR Network, for critical and up-to-date labour-related information, or Lexis® Library for managing all your Labour Law research from a single, centralised online platform.
And when it comes to background screening, Lexis RefCheck makes it easier, with verification covering identity, past employment and qualifications, credit bureau reports, fraud or criminal history and much more.
Whatever the Labour or HR need, LexisNexis has you covered from start to finish.
---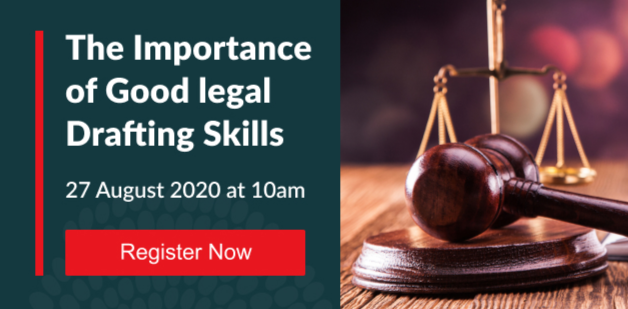 Due to popular demand, we will be hosting a second session of the Legal Drafting skills webinar. We would like to give all our LexisNexis subscribers and customers a chance to attend this insightful webinar presented by Advocate Ismail Hussain SC.
GOOD DRAFTING MATTERS

In South Africa, a scarcity of strong legal writers and an over-reliance on precedents and complex legal jargon has led to many badly drafted legal papers. The result? Lengthy delays in court proceedings as these papers lead to unclear arguments or rejection of the papers by the court, resulting in a backlog in the legal system.

The truth is that clear and succinct legal drafting has become a necessity in our current legal climate. Indeed, if careful consideration is given to the proper drafting of legal papers, the confusion and backlog is sure to decrease.
FREE WEBINAR: IMPROVE YOUR LEGAL DRAFTING SKILLS
Join legal drafting expert, Advocate Ismail Hussain SC. for a free webinar to discuss the importance of and process for good legal drafting skills. The webinar will cover:
· A step-by-step process for logically determining the facts of the case
· The importance and use of Plain Language Practices
WEBINAR DETAILS:

Date : 27 August 2020
Time : 10h00
Expert : Advocate Ismail Hussain SC.
Advocate Ismail Hussain is author of the LexisNexis title Practical Drafting Skills. A former Judge of the High Court and the Competition Appeal Court, he was a member of the Independent Electoral Commission from 1994 to 2004 and has served on various legal training panels.
Register for the free webinar here
Regards,
The LexisNexis Team
Copyright © 2020 LexisNexis, a division of Reed Elsevier Inc. All rights reserved.
---
Dear SASLAW Member
A recent directive from the CCMA states that, during the lockdown period, the use of any electronic signature or electronic confirmation process will be accepted if such proof can be stored safely and retrieved and printed when needed.
This is in response to one of the major concerns of lockdown – the signing of contracts. Namely, how to secure legal, original signatures compulsory for a range of transactions without access to scanners or being in physical contact with the signatories. Documents for signing might include CCMA referral documents as well as lockdown-specific documents such as movement permits.
Electronic documents should use advanced digital software to provide security, document integrity and indisputable authenticity. With this in mind, the Electronic Communications and Transactions (ECT) Act gives legal recognition to electronic documents and recognises that e-signatures can serve as the electronic functional equivalent of their paper-based counterparts.
FREE ACCESS to LEXIS SIGN: Sign now, sign online
With South Africa in extended lockdown, new ways of working are necessary, especially to ensure the continuation of critical business processes. At LexisNexis South Africa, we understand that this means it's not business as usual and yet that business has to go on. That's why we've responded to these difficult times with various initiatives designed to support and advance the Rule of Law.
In this spirit, we are giving you FREE access to Lexis Sign for a period of 60 days.

One of the first digital signature platforms in the country, Lexis Sign offers international standard digital signatures (for local and international use) built on the foundations of South African legislation, as underpinned by the ECT Act.

Lexis Sign allows users to upload any PDF document to be signed and eliminates the need to print, sign, scan and email through a simple, secure entirely web-based platform that does not require additional hardware or devices. It's quick and easy to use, enabling documents to be signed anywhere, any time and on any device.
---
Dear SASLAW members,
Missed our COVID-19 Return to Work webinar?

LexisNexis recently hosted our first COVID-19 Return to Work webinar and we are pleased to report a fully booked session!

Hosted by employment experts Mike Beaumont and Jakes Doorsamy, directors of The HR and IR Consultancy, the webinar covered a strategic plan for businesses and practitioners returning to work after lockdown – essential information for South African business owners and professionals.
You don't have to miss out.

If you weren't able to attend the live session, you can watch the free recording at a time that suits you. Sign up to access the recording.

You will also be able to download a special copy of the latest Beaumont's Express, covering the topics discussed in the webinar.
Sign up to access the pdf.
Business unusual - learn what to expect and what to do

In the light of new rules and regulations, adapting workplace practices to ensure safety and compliance is a pressing concern for many South Africans, including business managers, legal practitioners and union representatives.

Want to be sure your business is safe and compliant when it comes to being back at work post-lockdown? Then this webinar is for you – it covers a range of HR and IR-related questions from how to manage a staged return to work to developing policies for those employees who will continue to work from home.
Get the legal content you need

LexisNexis prides itself on providing its clients with the most reliable and up-to-date legal content available. Beaumont's Service is an expert-driven, online subscription service on South African labour relations and the law, designed to provide solutions to everyday labour problems.
Click here to learn more.
---
Practical guidance at your fingertips
Whether you're a business owner, an HR manager, an attorney, or a legal advisor, dealing with any legal issue effectively and efficiently often requires in-depth understanding.
This means you must expend hours of your valuable time and energy to acquire knowledge on practical law application for matters concerning corporate compliance, HR, workplace safety, and the like.
Regardless of your vocation, being able to quickly access relevant information when a legal issue turns up is crucial.
Practical Guidance at your fingertips
Lexis Nexis, in collaboration with many specialist legal practitioners, addresses this need through Lexis Practical Guidance – a useful, easy-to-navigate online tool, which is focused on helping people in any industry to bridge the gap between understanding the law and applying it.
This practical online legal tool is a first of its kind in South Africa and covers hundreds of legal topics, divided into 30 main legal practice areas.
The content is presented in the form of guidance notes, checklists, flowcharts, forms and precedent documents, key cases and legislation. It provides users with concise guidance and instant clarification on points of law, so they can easily understand what needs to be done and take suitable action.
It provides nuanced understanding, as well as relevant, useful, and practical information – not only of the legal side, but also of the invaluable commercial and practical side of the law. While the content is simple enough for the junior practitioner or legal outsider, Lexis Practical Guidance also delivers enough depth and detail for the seasoned specialist.
Senior practitioners will find that it helps to keep them well-informed of developments and best practices and facilitates insight into issues that arise outside of their main area of specialisation.
It is also optimised for mobile use, which means you have access to Lexis Practical Guidance at your fingertips 24/7.
Lexis Practical Guidance provides attorneys, in house legal counsel, compliance officers and other managers with confidence in the legal steps and processes that they face in the workplace. Navigate the complexities and nuances of legal practice with ease through a conveniently accessible online platform.
It is like having your own specialist legal practitioner on your desktop. For more information or a free demo visit: lexisnexis.co.za/practical-guidance.